"Seventy exhibitors, over twenty fashion brands represented. These are the numbers that 'anticipate' Fimast, the international exhibition of textile machinery and accessories scheduled from September 26 to 29 at 'Brixia Expo'. 'A sign of courage and the desire to meet the challenge shown by entrepreneurs."
Source: BRESCIA OGGI 14.09.2012
During the 2012 exhibition, our first with machines in our stand, we presented renovated, revised, and redesigned hosiery assembly machines.
Given the demand at the time for the TAKATORI GUSSET LINE CLOSER 360, better known as TAKATORI GLC360, and the limited availability of this specific model of TAKATORI machinery, our technical department, together with the metalworking area, materialized the idea of transforming a TAKATORI GLC320 into a TAKATORI GLC360, thus being able to respond promptly to market demands. The force employed in this project was significant.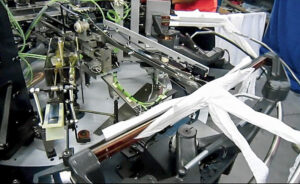 The transformation of a hosiery sewing and assembly machine of this kind is certainly not simple, and the mechanical, pneumatic, and electronic processes were highly invasive. However, thanks to our specialized technicians, the initial idea took shape, materializing into a new GLC360.
The GLC machine assembles nylon/microfiber tubulars together, then applies and sews a patch onto the body, all aimed at obtaining the pantyhose that we all know.
However, the shortcoming of this hosiery assembly machine is the toe stitching, which must be sewn at the end to produce a complete pantyhose, thus creating the toe.
As a complement to our GLC360, our visitors were also able to see the innovation of the TCR2NG TOE CLOSER, designed and produced entirely within our headquarters, with a patented positioning and sewing system.
As is tradition, UNION SPECIAL sewing heads are mounted on hosiery sewing and assembly lines, of which we are authorized dealers. Thanks to the experience of our technicians, these sewing machines are transformed and modified for various types of stitching, fulfilling diverse requests. In this way, we can provide technical assistance to customers, both in producing samples on the machine and in programming the hosiery sewing and assembly line for the production phase.
There are many other peculiarities of this GLC360 with TCR2NG hosiery sewing and assembly line, and we invite you to request more detailed information or watch the video on our YouTube channel.
With years of experience, we can boast a vast operating area divided into specific sectors, where highly qualified, specialized, and attentive personnel contribute to ensuring the quality and efficiency of the hosiery machinery we produce. The production of hosiery machinery takes place entirely within the workshop of BOGGIANI RENATO SRL, with a guarantee of made in Italy, certified and CE marked.
We pay particular attention to constant and meticulous checks on finishing, processing, and functional testing.
We believe these are fundamental features to guarantee our products to our customers.