"FIMAST 2014, the international exhibition of textile machinery and accessories, expands its offering this year as it prepares to open its doors. The event will take place at the Centro Fiera Internazionale Del Garda in Montichiari, Brescia, with the intention of demonstrating that the Italian and European hosiery machinery industry is still a dynamic force not to be underestimated."
Source: knittingindustry 10.09.2014
The trade fair ended very positively, with a significant foreign presence and a 35% increase in visitors compared to the previous edition.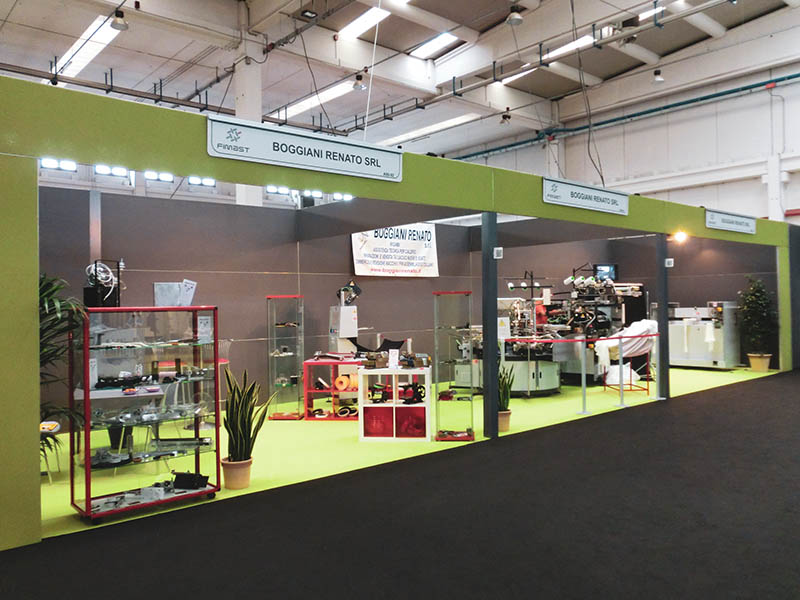 Our company was present as an exhibitor and brought two new products. There is a growing demand for automated machinery that can increase the company's production capacity while having reduced maintenance requirements. For this reason, we designed and manufactured two machines exclusively for FIMAST 2014 at our headquarters:
an automatic labeling machine for sewing and assembling pantyhose.
a double-station cutting machine for cutting tubular pantyhose.
In addition to the new products, we also exhibited a completely transformed sewing line for assembling pantyhose, which was complemented by the automatic labeling machine.
Due to the demand for TAKATORI LINE CLOSER 360, better known as TAKATORI LC360, and the limited availability of this specific model of TAKATORI machinery, which can also handle large-sized pantyhose, our technical department, together with the mechanical engineering area, has developed a project to transform a TAKATORI LC280PD into a TAKATORI LC360WPD.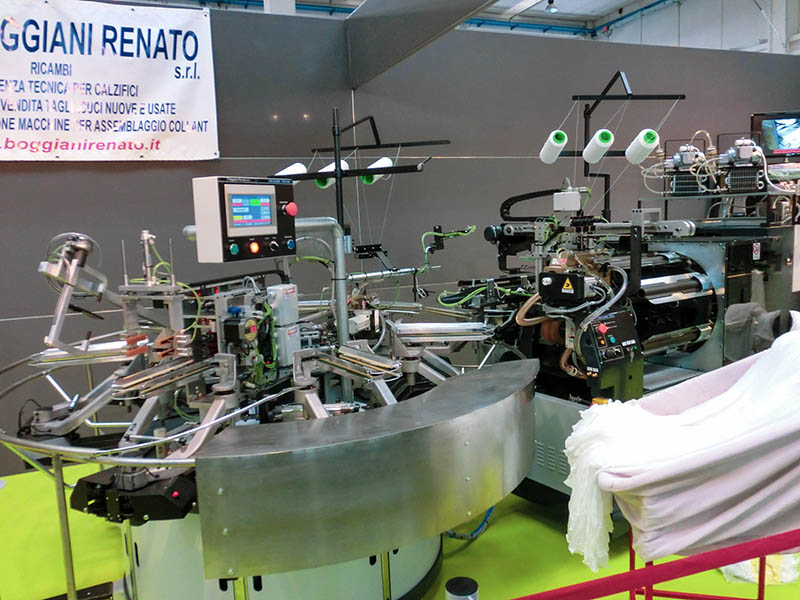 The commitment and determination to the success of this project were truly remarkable. The work required significant mechanical, pneumatic, and electronic modifications to the sewing and pantyhose assembly machine. Specifically, we developed a double-positioning group during the transformation of the TAKATORI LC280PD and installed cutting-edge electronic and pneumatic systems for easy management. This was achieved through a touch screen panel with remote control capabilities via the internet.
On display, we paired our TCR2NG sewing machine, designed and manufactured entirely in-house, which has the unique ability to sew the toe of the pantyhose in a "rounded" manner, making the finished product elegant and comfortable to wear. The toe-sewing device and the round sewing mode on the TCR2NG pantyhose sewing machine are protected by patent.
UNION SPECIAL sewing machines are installed on the presented pantyhose sewing and assembly line, and we are authorized dealers of these machines.
There are many other features of this LC360WPD pantyhose sewing and assembly line with TCR2NG, and we invite you to ask for more detailed information or watch the video on our YouTube channel.
During this trade fair edition, we wanted to further promote our specialized activity of revising UNION SPECIAL 39500 sewing machines and pantyhose assembly and sewing machinery, such as TAKATORI, DETEXOMAT, and SOLIS sewing lines.
A productive machine, the beating heart of the company, must always have high levels of maintenance. If the pantyhose sewing line is really old, it needs revision, and we can respond to different needs, from basic revisions, where we repair what is not working but do not make modifications, to massive revisions, thanks to which the pantyhose sewing line has the possibility to reach the production and quality standards of the past, and why not, improve them.
We believe that these are fundamental characteristics to provide our customers with product guarantees.