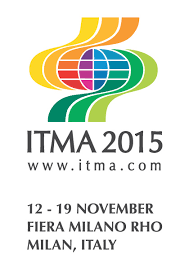 More than just a trade show, ITMA is considered the "Olympics" of textile machinery exhibitions, a highly anticipated and well-attended event that returns to Italy after a long absence. ITMA will shed light on the international landscape of the textile equipment industry and emerging innovations in the market.
"ITMA 2015 with a size of over 200,000 square meters, will be complemented by various platforms for knowledge exchange and networking. ITMA 2015 will present end-to-end solutions for the entire textile and apparel production chain: Knitwear, Knit Outerwear, Intimate Apparel, Hosiery / Socks, Sport / Activewear, Swimwear / Beachwear, Knit Accessories, Home Textiles, Technical Textiles, Collections, Colors / Trends"

Source: knittingindustry.com
For us, ITMA 2015 was the first true INTERNATIONAL exhibition that we participated in. BOGGIANI RENATO SRL was growing, we were building the new and current operational headquarters in Via Pitentino, and we were truly in a phase of great turmoil. However, our desire to look beyond was superior to the difficulties we had to overcome.
First of all, it should be noted that ours is a "family" company, a value that we hold dear. Therefore, the approach of our forces to a trade fair of this size was truly a challenge, from which we can say we emerged victorious.
For ITMA 2015, we launched a project for the creation of a machine capable of producing one-piece stockings, i.e., stockings with a very particular 3D texture, produced exclusively by specific machines, in a single piece of fabric.
Our new EASY 385 machine, equipped with innovative technology, allows the processing of these particular "one-pieces", cutting the bodice with a laser beam and then allowing the application of grip tape through heat transfer in a linear manner. The particularity of this machine, in addition to being unique in its kind, produced and fully developed in our company, and covered by a patent, is that when used on a one-piece article intended, for example, to become leggings for use in sports, the product once processed on our EASY 385 is finished and can be marketed. Therefore, we will have a machine capable of autonomously performing the task of 2 operators. EASY 385 is easy to use, versatile, and eco-friendly.
In addition to presenting this new EASY 385 machine, as always, and perhaps even more so, we wanted to make our work reality known worldwide, as ITMA 2015 had a huge user base. We at BOGGIANI RENATO SRL have talked about and advertised our services:
specialized technical assistance service for pantyhose assembly machines;
sale of UNION SPECIAL 39500 spare parts, and UNION SPECIAL 36400 spare parts;
sale of UNION SPECIAL 39500 sewing machines adapted to the different needs of customers;
technical assistance service on TAKATORI pantyhose assembly machines;
trade of pantyhose sewing and assembly machines;
sharpening of body scissors and tassel scissors on LC and GLC TAKATORI;
sharpening of cutting knives for UNION SPECIAL sewing machines;
resharpening of knives for DETEXOMAT, UNION SPECIAL 39500 and 36400 chain cutting machines;
re-rubberization of LC and GLC TAKATORI pantyhose assembly machine pliers;
re-rubberization of UNION SPECIAL 39500 sewing machine needle plates and feed dogs.